Again....
Last week I went to Kuala Lumpur to meet customer. I wore the new white cardigan. Again, I forgot to take picture. So, I decided to take the cardigan itself without me.
I started this on end of January 2006 and finished it on end of June. I used up 5 balls of white DMC Tradition 100% cotton size 10. Actually I bought 4 balls from ebay, then realized that it was not enough. At that time (March) I have finished everything: front part, back part, and two sleeves, even already joined together. Only needed to finish the edging part. It's so frustrating. Then I ordered another 2 balls from the same seller. Since my sister in law is planning to come back to Malaysia on April, I asked to be delivered in her US address. In the end she only came on May. I had to wait for 2 months.
Anyway, I am happy with the result. It fit me nicely
Another news is that now I am learning how to knit. I finally decided to learn because I could not stand looking so many nice free design on the internet.
The first piece I am knitting is for my baby. The reason is because it will be small enough for me to finish it quickly.
Up Date on 5 Sept 06:
Finally I manage to take photo of myself wearing the cardigan.
This is the original photo on the
Japanese mag
: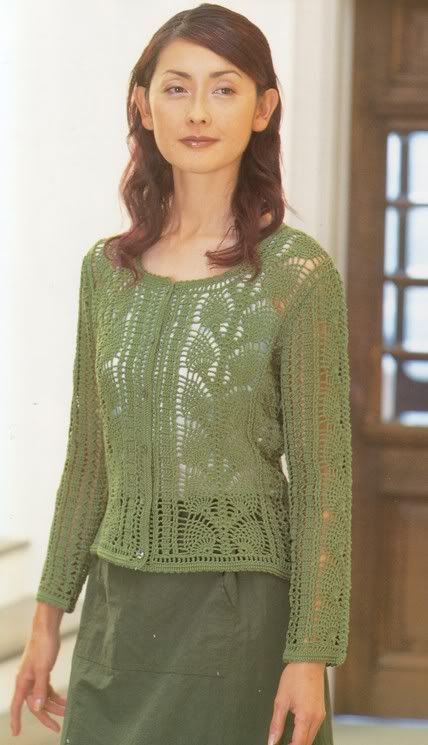 This is how it looks like on me: